Finding Grey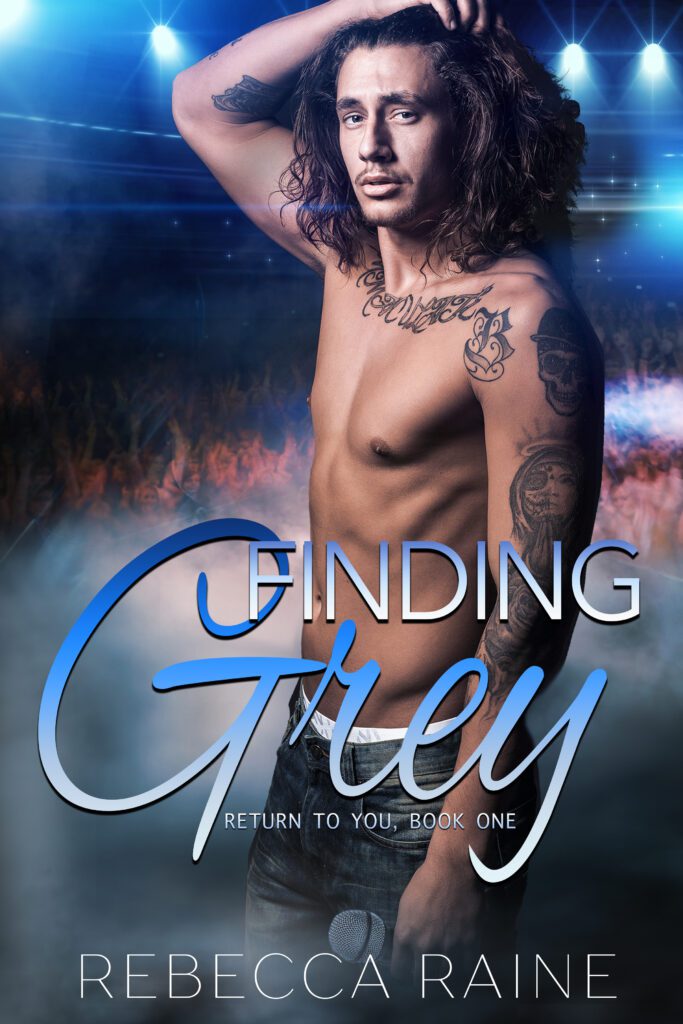 When being seduced by a rock star, only a fool falls in love.
Sean
The night Dante Sinclair lured me into his dressing room and gave me my first kiss, I was oblivious to one important fact: all rock stars are spoiled narcissists. I learned my lesson when our failed attempt at a reunion left me humiliated and heartbroken.
Now, Dante is booked into the music retreat I run. Years have passed, so I know he won't recognise me. He'll have no idea the man cooking his meals and washing his clothes is the same skinny boy he kissed so long ago. And when he begins to look at me like I'm his new favourite muse, my anonymity will be my only protection against the sensuality of his charms.
Dante
Grey. It's the name I gave to the only boy I ever kissed. He is my favourite memory. The place my mind goes when the expectations of rock stardom threaten to choke me. I barely remember what he looked like, but I'll never forget the way he made me feel.
When I came to this retreat, my goals were simple: get out of my creative rut and write my new album. But one look into Sean's eyes is enough to threaten the tenuous control I have over my life. He swears we've never met, but there's a Grey-ness to him that inspires me, even as it makes me ache to satisfy the cravings I've denied for so long.
He may not be my Grey—but he's close enough.
Peak Inside...
After Phil left, I turned on my heel to face Sean, curious to know which way the wind would blow now we were alone.
"If you'll follow me, Mr Sinclair," he began, gesturing to the hallway behind him, "I'll show you to your room."
"Hold on a sec," I said, halting him. His cheeks hollowed as he turned back to me and I got the impression he was biting his tongue. I sauntered closer, wrapping an extra-thick layer of rock star around me as I went. "We'll be seeing a lot of each other over the next couple of months, so I'd prefer it if you call me Dante. How does that sound to you, Sean?" I said his name slowly, letting my gaze roam over his face as I spoke. I'd perfected the blatantly sexual move in my late teens and used it liberally ever since. Most people responded to the suggestion by repeating my name, often with the same slow drawl I'd used on them. It was like a game. Harmless, but flirtatious, it was designed to make people feel like we'd shared a profound, if fleeting, connection.
"If you insist, Dante." Sean said my name slowly all right, but rather than being flirtatious, an undeniable hint of mockery coloured his tone. He knew the game, but he wasn't inclined to play. A slow smile crossed my face as he turned away. Oh yeah, he definitely didn't like me.
We passed several bedrooms before I spoke again. "This house is a little big for just me."
"We usually have entire bands stay, sometimes with their partners," he said over his shoulder. "The house can accommodate up to ten people at a time. It's not often we have only one guest."
"I work best when I'm on my own. Less distractions." I didn't add usually to the end of my sentence, although with the way my gaze glued itself to his arse as he walked in front of me, I knew the word belonged there. Sean entered a doorway on the left and my perfect view was cut short.
I followed him into a large, airy room. My luggage had been placed at the end of a king-sized bed that called my name the instant we crossed the threshold.
"Your private bathroom is through here," he said, pushing a second door wide, "and the walk-in wardrobe is opposite. I'll be providing all your meals and taking care of the house and grounds while you're here. I can also run basic errands if necessary." Everything about his tone was pleasant, modulated… fake. I hated fake.
"Think of me as your go-to man for whatever you need during your stay."
I didn't need much, but I'd just added the desire to hear Sean's voice crack to the end of my growing list of wants. Bending to place my guitar case in front of the nearby dresser, I favoured him with a grin. "Aren't you the host with the most."
The barely perceptible narrowing of his eyes wasn't lost on me. "It's all part of the Full-Service Package."
In other words, I'd paid a shitload of money to have him at my beck and call, and I'd be an idiot to assume he was here for any other reason. The stark reminder was unnecessary. I had no illusions about my life, or the fact it was populated by transactions more often than affection. But it would make for a trying couple of months if the man couldn't at least pretend to tolerate me.
"I'll leave you to get settled. If you need anything, pick up the phone and dial one hash to reach me. Otherwise, I'll see you in the morning."
"And you'll give me that tour?" There was no real need for us to shake a second time, but I offered my hand anyway. Something about his aversion to me, the way my very existence seemed to annoy him, inspired a perverse desire to dig further under his skin. "I wouldn't want to get lost. Who knows where I'll end up?"
Those lips pressed together again as he came forward to accept my hand, but this time he seemed to be fighting a wry smile. "It's a viable concern with rock stars, I'll admit. I wouldn't want to have to file a missing person's report on the first day."
Sean's teasing made me smile. Perhaps there was hope for us yet. I looked into his eyes as we shook, really looked—all up close and personal.
Grey. Sean's eyes were grey.
An eternity passed as I stood there, staring at him. Not just at his eyes, though. I'd come across men with grey eyes before. As colours went, it wasn't so rare. Sean was different. With his light-brown hair and his square jaw, he possessed a Grey-ness that had been lacking in other men. For a moment, I imagined I could laugh and pull him against me. Finally. After all these years.
Found you.
Sean cleared his throat. "Is something wrong?" The low intensity of his voice, the way his breath came fast in his chest, implied my overly dramatic response had somehow been mirrored in him. "I'm gonna need my hand back."
The spell broke and I released him but, even so, I couldn't tear my gaze away. "You, ah, you remind me of someone I haven't seen in a long time." I swallowed past the lump in my throat, wishing beyond all hope. "Have we met before?"